So I'm here at work, trying to pry my eyes open and make it through the day. I've only been here an hour. What did i do last night? Well it was Halloween Duh and in my house that means its bigger than Christmas. I left work 2 hours early just to prep, was dressed before my kid even made it home from school and then it was go time. We train for this night all year. Teaching ourselves to handle the sugary goodness by training and eating small amounts of candy leading up to the big day. Watching our steps on the FitBit to make sure we push a little harder because come this amazing night- its go time. This is not time for amateur hour at the Ruiz house. My son had about 22,000 steps on his last night. It's enough to make a mother proud.
Keeping in tradition with our themed costumes, this year he chose WWE wrestlers for us. He wanted to go as Kane but with the outfit from 1999 Attitude Era days. Totally up for the challenge i scoured the internet and found articles of clothing worthy of such a feat and then spent an entire Sunday hand painting his costume. After he was all set and done, it was time for mine. I decided to pay homage to a childhood favorite fo mine and my brother Macho Man Randy Savage. I must say that im quite pleased with the outcome and all night – dads around my age kept shouting out their approval. Even though i was robbed in the neighborhood costume contest– it was clearly a popularity contest- i still feel like i left that night the victor.
Now my body hurts and i think i need coffee intravenously pumped through my veins as all the magic was poured into last night. It is the one thing i live for all year, and the reason why is this: Halloween is the one holiday where you can let go and pretend. You can be anything you want and no judgment is passed. You don't have to spend money on presents or feel left out if someone didn't get you anything. We are all brought together by the common bond of candy and fun. There are no political or racial differences behind the mask and for one night we all join in for fun and laughter.
And as if the Halloween gods nodded in approval this morning i was given a teeny tiny little high-five from the Universe- in the form of a tweet. I saw that The Mindy Project was following me on Twitter. Why is that a big deal? Well she's only an amazing writer and comedian and bad ass woman which frankly we need to celebrate more. But that was pretty cool and for today, I fully intend on acting like im better than anyone else here at work, because after all, I'm kind of a big deal 😉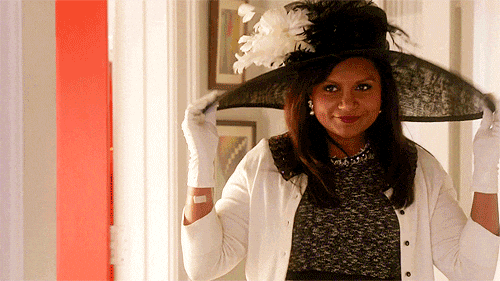 And for your enjoyment….a little impersonation of the Late great Macho Man. You made our childhood better ❤